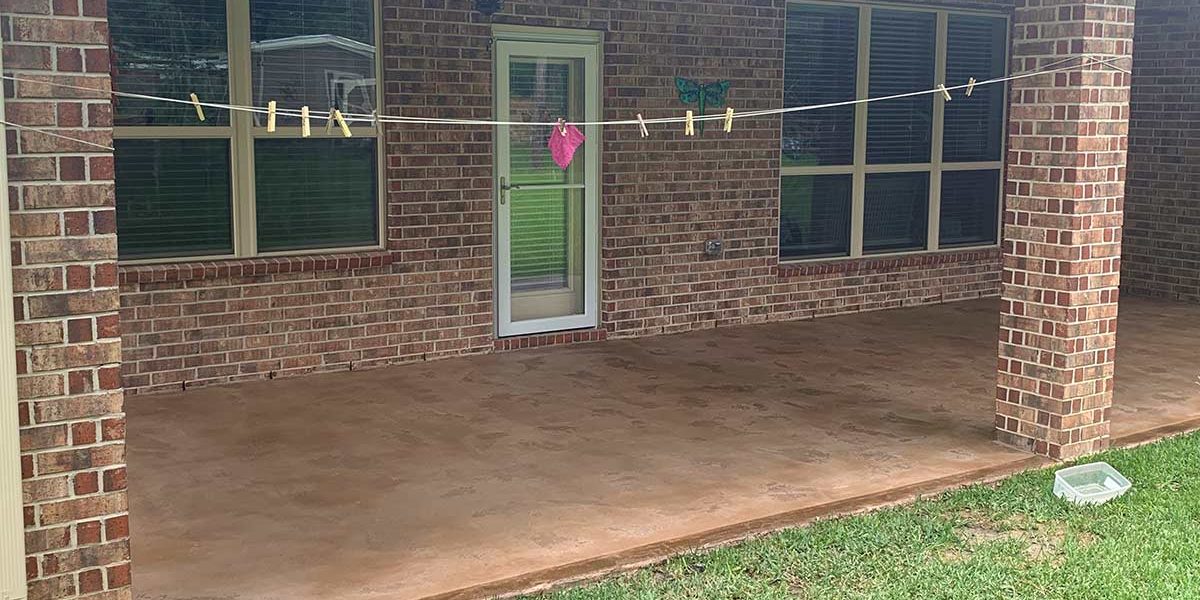 Concrete Overlay To Correct A Rain Damaged Patio
A skip trowel concrete overlay was installed on this back patio in an earthtone color to complement the house. The existing patio was pitted and showed lots of the aggregate in the finish. These imperfection came from the patio being rained on when it was originally poured. Due to these problems the customer began looking for a decorative solution. The solution would need to hide the damage, enhance the look of the area, and be easy to maintain. Concrete Overlays were created for this exact reason to fulfill all these solutions.
The skip trowel texture on this patio was applied with two layers of conrete overlay. The first layer, known as the "bond coat" is squeeged out across the whole patio. This intial coat of overlay helps to smooth out and hide the existing imperfections. When this layer has dried we apply the texture coat "skip trowel". This coat is applied by hand to give the overlay depth, and the illusion of a stone texure. Once all the overlay coats are applied we stain the floor to add more depth, and realism to the texure. The whole project was then finished off with two coats of acrylic sealer to protect the concrete overlay and make it easier to clean.
Project Details
Back Patio 390 sqft
Application: Skip Trowel Concrete Overlay
Color: Buff with chocolate border
Sealer: Acrylic
Get a Free consultation and estimate today
Let's discuss your next decorative concrete project!